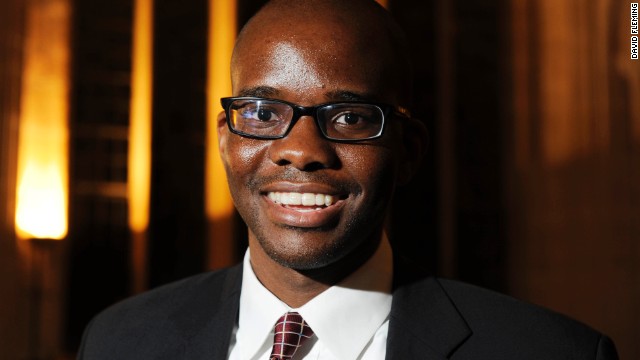 (CNN) – Nigerian writer Tope Folarin has been announced as the winner of this year's Caine Prize for African Writing. The U.S.-based author scooped the accolade — which has been described as Africa's leading literary award — for his short story "Miracle," a tale of faith and deceit in an evangelical Nigerian church in Texas.
"Winning feels tremendous — I still can't believe it," enthused the 31-year-old author. "I feel like I'm walking on air."
Folarin spent a year writing the story, which explores the relationship between a blind pastor-prophet and his faithful congregation. "It's a community I know quite well," he explained. "'Miracle' does have an autobiographical quality to it, because the dreams and desires described are ones I share as a writer in the Nigerian diaspora."
The Washington D.C.-based author, who was born and raised in the U.S. but lived in Nigeria for a year, said that fellow members of the community had responded well to his story. But striking the right tone had its challenges. "I spent a long time trying to get a particular voice down, and that was the greatest technical difficulty I had when writing the novel," Folarin said.
"Watching Woody Allen's 'The Purple Rose of Cairo' — where a movie star walks off screen and into real life — helped me to define that voice, and introduce the narrator's transition from using 'we' to 'I'."
Gus Chaseley-Hayford, chair of judges for the prize, described Folarin's winning prose as a "superb Caine Prize winner — a delightful and beautifully paced narrative, that is exquisitely observed and utterly compelling."
The decision was announced at the 14th Caine Prize ceremony, held Monday night at Bodleian Library at the University of Oxford, where Folarin beat his four fellow shortlisted candidates. Three of the other contenders were Nigerian, as was last year's prize winner, Rotimi Babatunde.
"I know that myself and other Nigerian writers have been empowered by a long tradition of Nigerian authors writing beautifully," said Folarin. "At times when we're struggling to write, we derive great power from the work that has come before us."
Folarin has previously received literary fellowships from The Institute for Policy Studies and the journal "Callalloo," as well as studying for two Master's degrees at the University of Oxford as a Rhodes Scholar. His Caine Prize win means he is eligible to take up a month's tenure as Writer-in-Residence at the Lannan Center for Poetics and Social Practice at Georgetown University, which he plans to begin before the end of the year.
Describing himself as a "savings freak," Folarin has no grand plans for his £10,000 ($14,840) prize fund as yet, but his future literary plans are more defined. "'Miracle' is part of a manuscript I've been working on for three years, which ties together a number of novels through a single lead protagonist," he divulged.
"I hope to get that published at some stage in the future, but my main focus right now is just being the best writer I can be.
"Nothing else matters to me."
[source: CNN]