I've been pretty lazy recently so I haven't had time for the oh-so-many DIY projects on my To-Do list.
I stumbled on this lace-lamp DIY some years back on DosFamily and I absolutely loooved it! I tried it and to was magic! It was a perfect house-warming gift for a friend.
Anyhow, I would like to share this project with you and hope you have fun doing it.
For this project, you will need…
a huge (ginormous) ballon
lace doilies/material
wallpaper glue (you can try Top Bond)
nice (fancy) wire cord
How to make the lace lamp:
1. Blow up your balloon; note that the size of your balloon will determine the size of your lamp. You will want to use a really big and strong balloon.
2. Place your lace doilies or material on old newspapers on a flat surface. Try using round shaped doilies. As for me, I couldn't get my hands on my grandma's old ones. I improvised and bought a similar lace fabric and cut them in circles.
3. Paint your lace doilies with A LOT of wallpaper glue until they are soaked.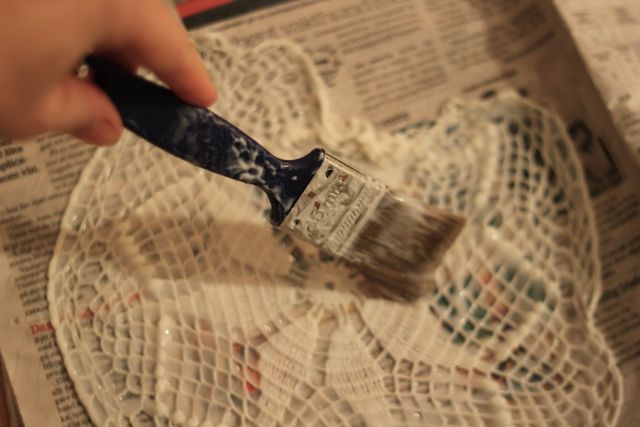 4. Hang the balloon on a string and put the soaked lace on the balloon. They have to overlap each other so they will stick together and connect.
5. It won't hurt so, put on another coat of glue after you have placed all the doilies on the balloon.
6. Let it dry COMPLETELY. Patience is a necessary virtue here people. When it dries, use a pin to pop?deflate the balloon. It should shrink and come off cleanly.
7. Gently widen the opening at the top (where the string was tied) and insert nice looking cord and lamp fitting. It is advisable to use a small (and original) LED bulb.
Your lamp is ready!!
To see more on this project, visit DosFamily